The secret to success is efficiency and efficiency is all about completing all the tasks at proper time and in proper way. As a practicing chartered accountant, you set up all the possible facilities, resources and infrastructure in your office. Every day, you and your team put in your best, in order to achieve the set objectives. But, in spite of all the sincere efforts, you often find some tasks left out.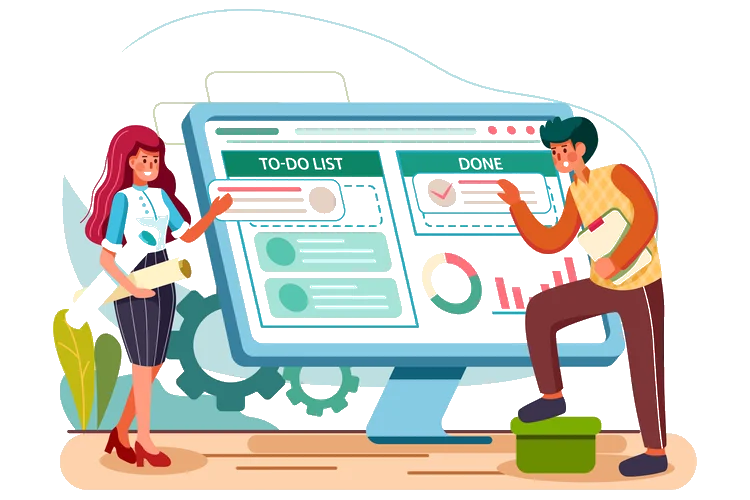 And then comes the common commitment - "We'll definitely finish it tomorrow". Don't you feel - "Every Today ends with a commitment for Tomorrow" Such situation is very common among Accounting Professionals, who are engaged in compliance practice and if you are one of them, then this article is definitely going to help you.
Traditional Style of Working
It has been observed that many Chartered Accountants, are still following the traditional style of working, i.e., spending major part of the productive time in routine activities, such as - work assignments, planning and setting to-dos for the work, reviewing work done by staff, daily discussions with team to know the flow of work, clients' meetings etc.
All these tasks are essential but very time consuming. And many of the accounting professionals do all this - Day In and Day Out. This is where they overlook the most important feature - An Efficient Task Management Software.
Just think for a while, if you are routinely doing those things, that are of recurring nature and also process oriented, then why not automate such things? Why not have an efficient Management System Software that not only works automatically but also timely and exactly as if done by you? Sounds worthy, isn't it?
But, if you, being a Chartered Accountant, still feel that you are handling all your tasks wisely, let's do a small test. Just think about all the activities you do in a single work-day and try to figure out what weighs more - routine tasks or non-routine activities.
Well, your answer will help you decide - whether you should continue with the same conventional working style, as decades before or do you need to upgrade to such automation technology, that can take your Practice to the next level?
Obviously, all Smart Chartered Accountants will move on with the second option. After all, it's better to Work Smarter rather than Harder !!!
Modern Style of Working
Now, if you really want to upgrade your business process, if you want things to work better and be better, you will have to adopt such Automation Technology that has all the key features, like -
▹

Task Management Software

▹

Office Management Software

▹

Client Management Software

▹

Financial Management System

▹

Auto Billing Tool

▹

Staff Management

▹

Time & Expenses Management

▹

Document Management System
Don't panic! You need not get all these systems separately and juggle among all. You can get all of the above in a single platform - that's Easycloudbooks! It is exactly what you have been looking for..
About Easycloudbooks
Easycloudbooks is a Cloud-based Accounting Practice Management Software that works great for Chartered Accountancy Firms. It is a simple to use, highly secure and very effective office management software that allows Chartered Accountants and their team to get on with the business processes without wasting time and resources. It gives you all the tools to automate daily task and grow your accounting practice.
It is an office automation system wherein work can be assigned to staff automatically. Your staff need not wait for instructions to be given. All the to-dos and templates set by you helps them reduce human error. This internal collaboration workflow system can do things faster than before.
Easycloudbooks understands very well that effective task management starts with being clear on exactly how much time is needed for particular tasks. It is a great way to track time. You can easily track how much time you and your team actually spend on a particular project. The moment you get a project and the moment you hand it back after completion, that in-between time is recorded. Is it within standard turn-around time or went beyond that - You can get all the details. It keeps track of everything so that you can analyze how you can manage your time on tasks more effectively.
The Client Management Portal of Easycloudbooks helps Chartered Accountants and Tax Professionals increase client base through anytime client collaboration, easy file upload, online in /out of client files and regular updates of all the Client compliance.
The Auto-Billing Tool of this Practice Management Software takes care of all the financial transactions and auto access to billing process, like as soon as a task is marked as complete, its invoice is generated and also dispatched to concerned client automatically.
This Dashboard Management System helps Chartered Accountants, Company Secretaries and Tax Professionals get all the business insights : Client wise, Service wise, Employee wise etc. and also detailed reports of cash inflow.
In nutshell, Easycloudbooks manages everything that you used to do, so just imagine how much of your productive time is saved. Go for a Free Trial of Easycloudbooks and check it yourself