A Cloud-Based Project Management Software for CA, CS, CMA, CPA That Gives Real-Time Visibility Of The Entire Workflow
A Knowledge-Based Management System that automatically identifies projects that are in danger of falling through the cracks and get them Done Accurately, Done Right and Done on Time
See Your Workload And Plan Ahead
This Project Management Software shows actual & exact project status - informs all ongoing work, clearly figures out missed projects and also pinpoints any leakages or revenue loss. So you can manage your workload better, getting enough time to execute jobs. Know more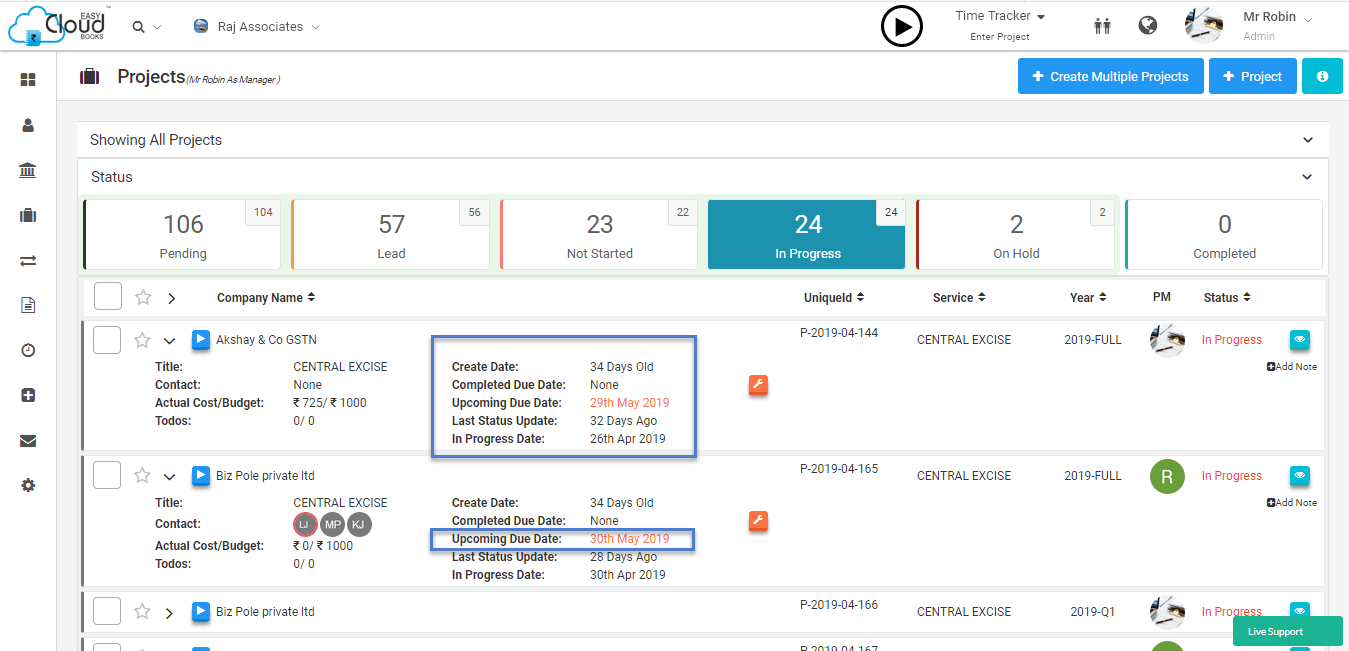 Keep Everything & Everyone On Track
Don't fear the risk of getting off track and missing any deadlines. The Process Management System in Easycloudbooks helps you define and refine your processes to make sure everyone is following the right steps and all the things are done right. Know more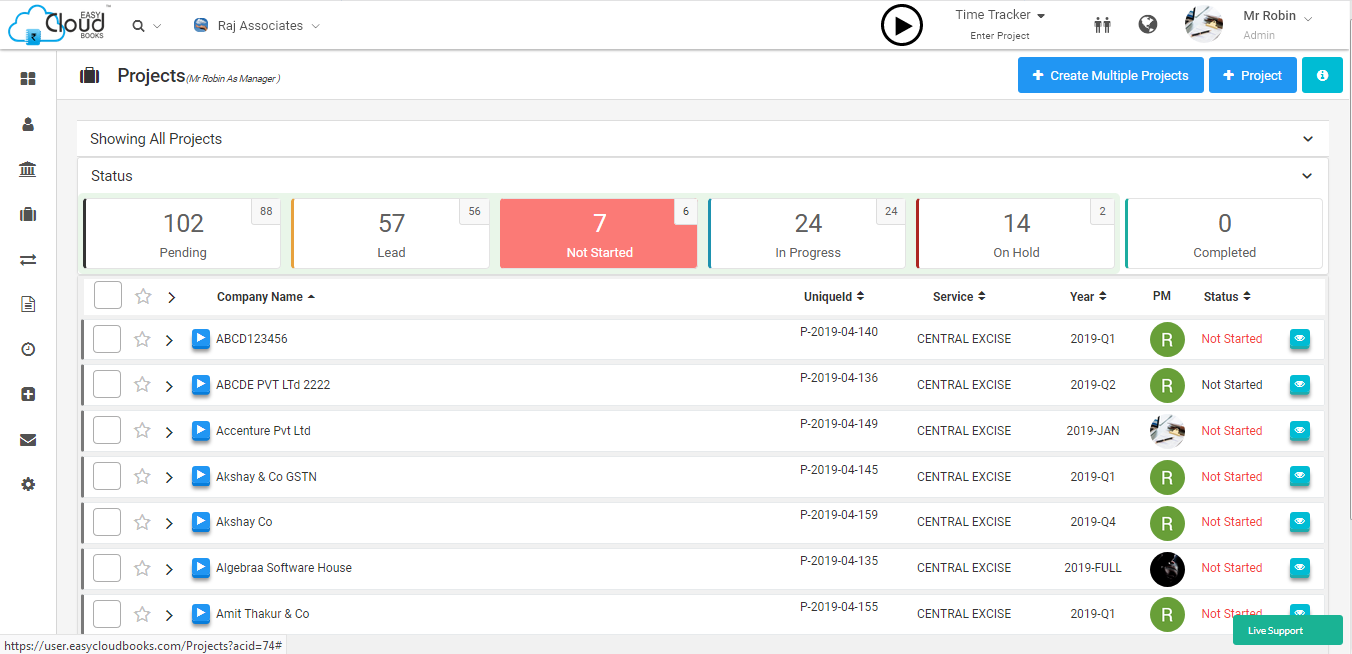 Streamline All The Processes With Proper SOPs (Standard Operating Procedures)
When everyone is doing things their own way, you end up with the substandard quality of a process and that costs you time and money. Adapting to this Practice Management Software provides in-built to-dos, instant query solving and simple-to-use tools that enable your team to work proactively with proper SOPs and no possibility of work stuck. Know more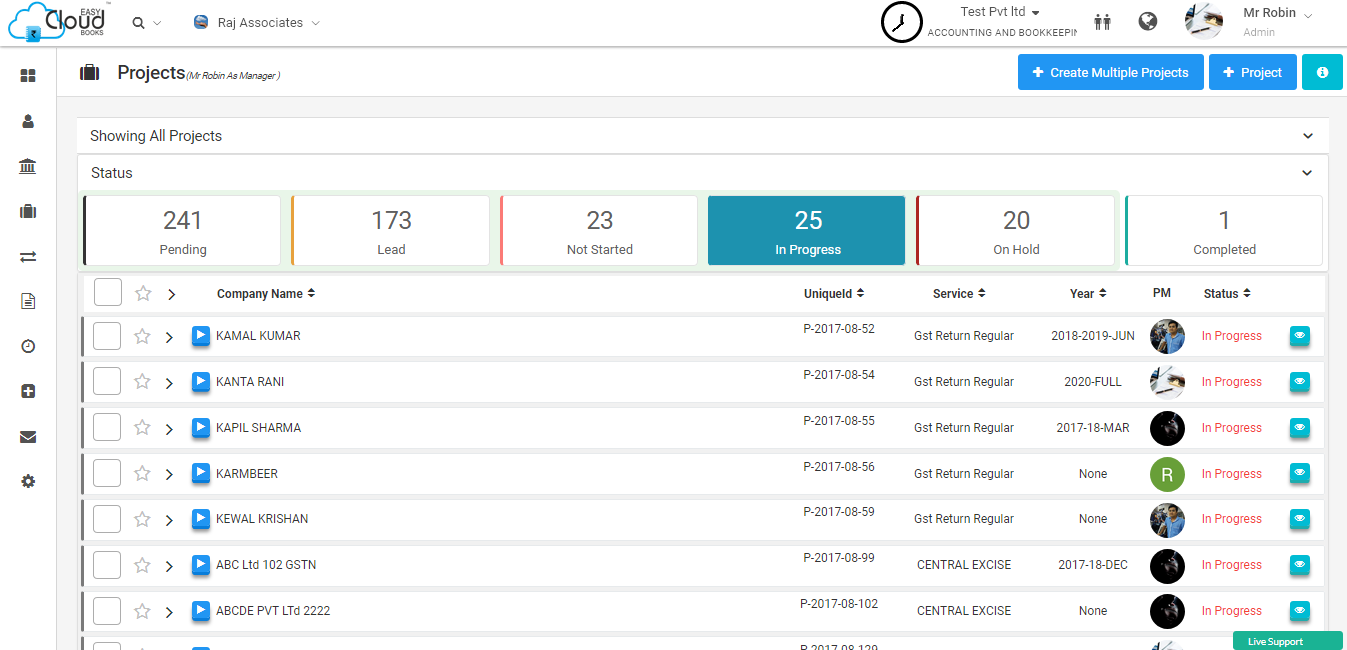 Stay On The Top Of Your Day
This Cloud-Based Project Management easily filters projects to know what's on your plate so you're prepared for each job every day. It gives all-time visibility of what needs to be done next, by whom and when. Be confident - things are done on time. Know more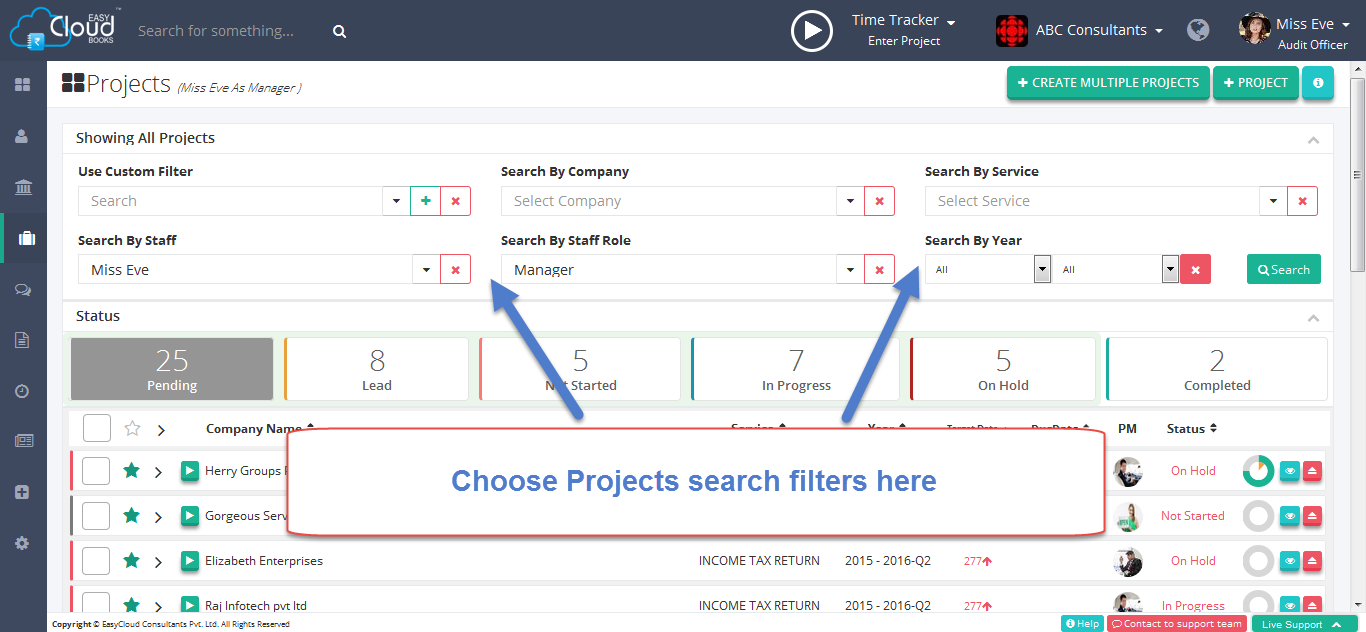 Track Projects From Start To Finish & Billing To Collection
Don't let things slip through the cracks. The Project Tracking System of Easycloudbooks enables you to track all the projects right from its creation till completion and collection of bills. It automatically highlights projects costing more than budget and also gives timely alerts for overdue projects and payments. Know more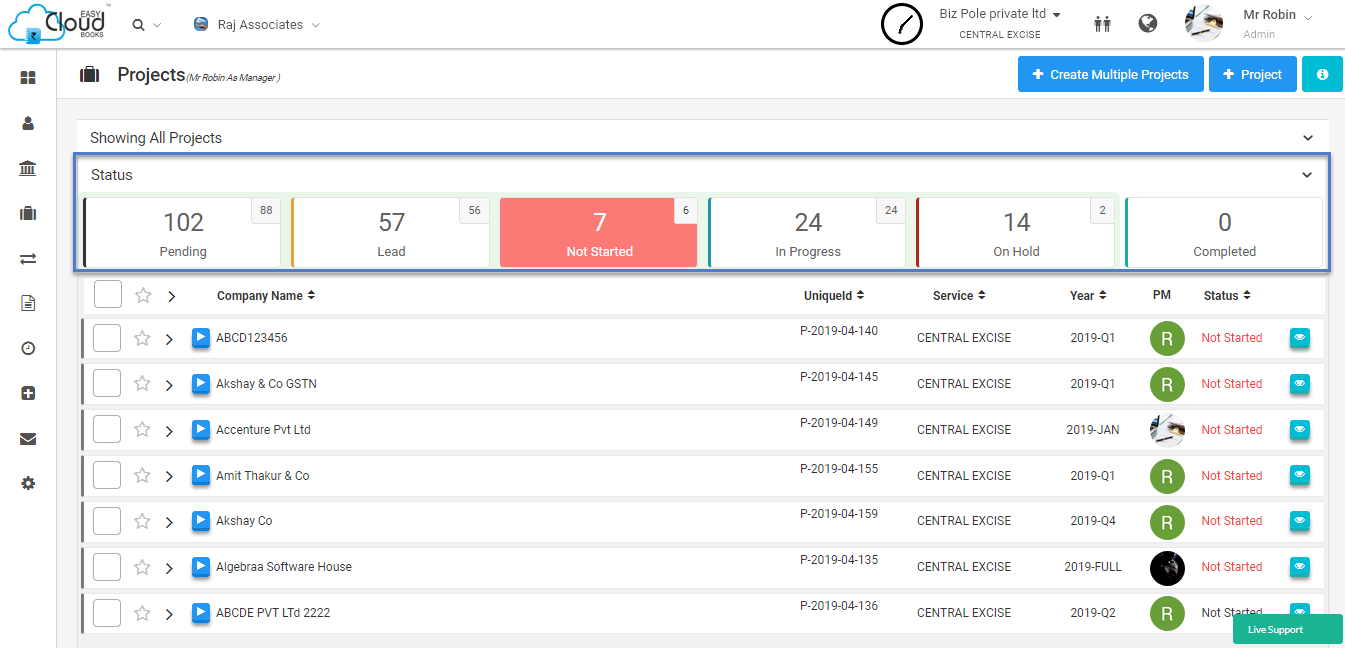 Create Smart Filters To Suit Your Work Pattern
Save smart filters like projects of new clients, projects overdue, projects going beyond turnaround time, etc, to match your work pattern and see what matters you the most at that time - Get all in one view on your Home Screen. Know more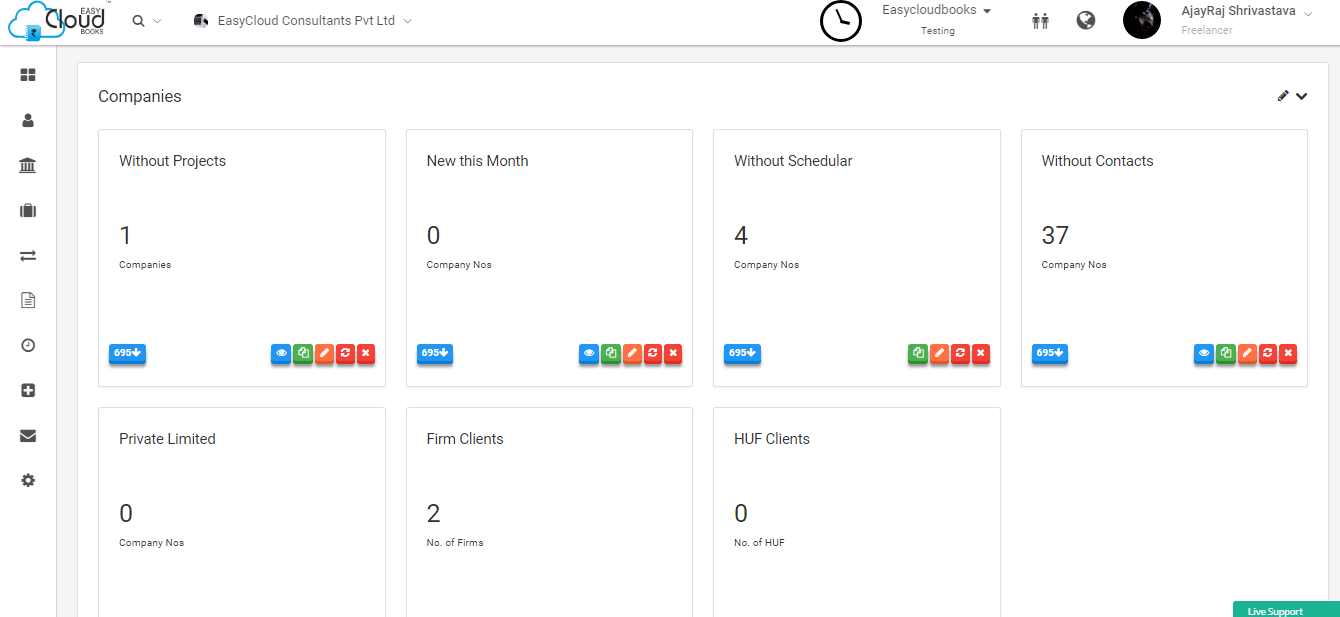 Automatic Follow Up To Clients / Team
Do you need to remind and follow up your team for moving projects forward? Give timely instructions and make automatic follow up alerts to all the concerned people, through Easycloudbooks. Know more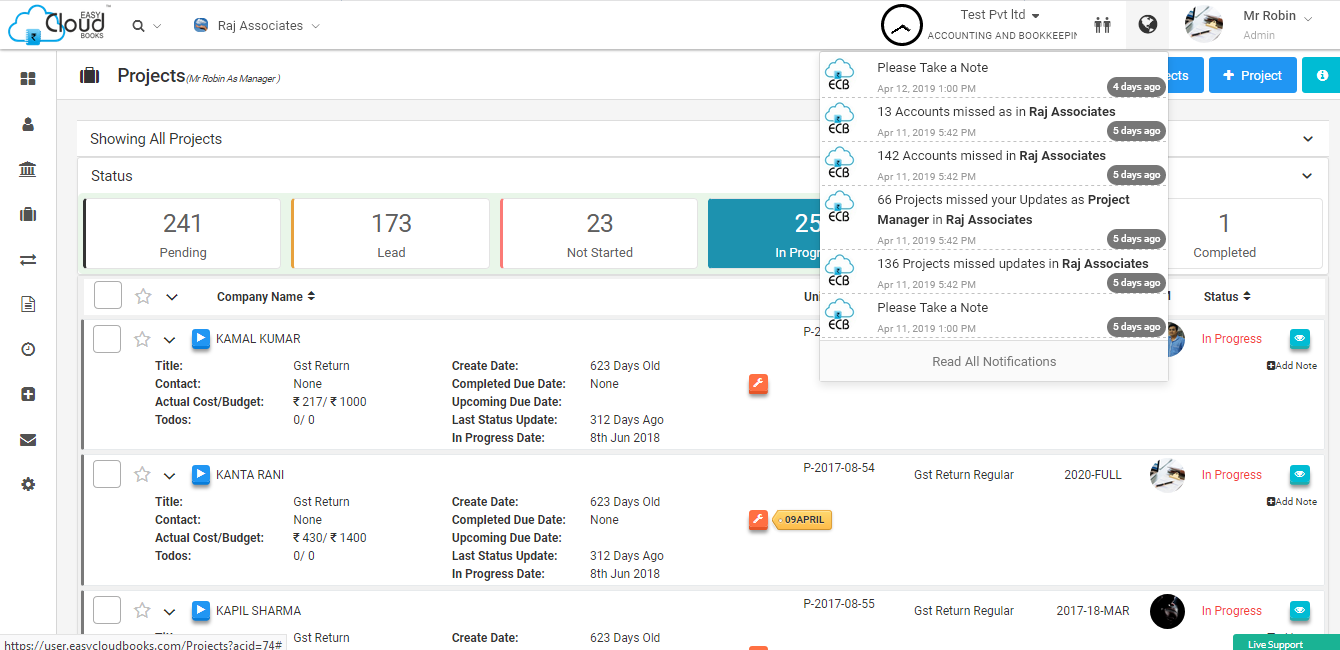 Automatic Status Update Reports
No need of interrogating staff or asking to update excel sheets to track who's doing what and no more reviewing of work done. Everything appears automatically at your dashboard. Know more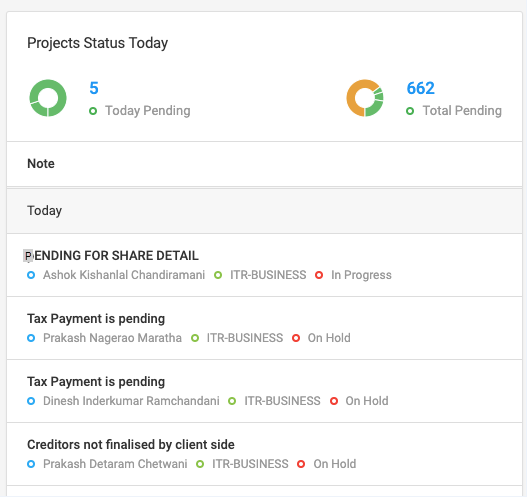 Accelerate Your Accounting Practice with Easycloudbooks
Start Now
Why Easycloudbooks?
Easycloudbooks Offers All Features with Unlimited User/Projects to Manage.
Quick Set up
Our simple practice management suite is easy to set up within 30 minutes.
Pay For What You Use
Pay for the features you actually need in workflow management instead of fixed yearly and monthly price.
Quick Customer Support
Be in touch with our sales team and support team via phone, email or live chat.
Access. Anywhere. Anytime.
Easycloudbooks is cloud workflow application, so you can access it from any device that is connected to the Internet and it is also available in mobile app.
Register Now